Event Analytics Metrics You Should be Measuring

Event Analytics Metrics You Should be Measuring
23-Jan-2018
This sponsored post is the result of a collaboration between Attendease and the Event Tech Brief editorial team. It has been written according to the same editorial guidelines that govern all Event Tech Brief articles.
Your event analytics metrics can provide you with insightful data at every step of the event-planning process. The data can be used to analyze the effectiveness of your event-planning process, your marketing strategy and execution, as well as the overall event value.
Here are some important analytics metrics you should be looking at if you want to better understand how users are navigating your website, how attendees feel about your event and what you can do to improve your results.
For the purpose of this article, we will base our examples below on Google Analytics, as this is the most widely used analytics tool out there. If you use event management software, you might have an analytics dashboard available, or you may be able to integrate it with Google Analytics. Either way, you should be able to gather similar types of data.
Marketing Campaign Performance
To start, you need to think about how you are bringing traffic to your website, and how this traffic is behaving. To do so, go to the left side menu from your Google Analytics dashboard and hit Acquisition > All Traffic > Channels. Here you will find some valuable information to help you understand how your marketing campaigns are performing.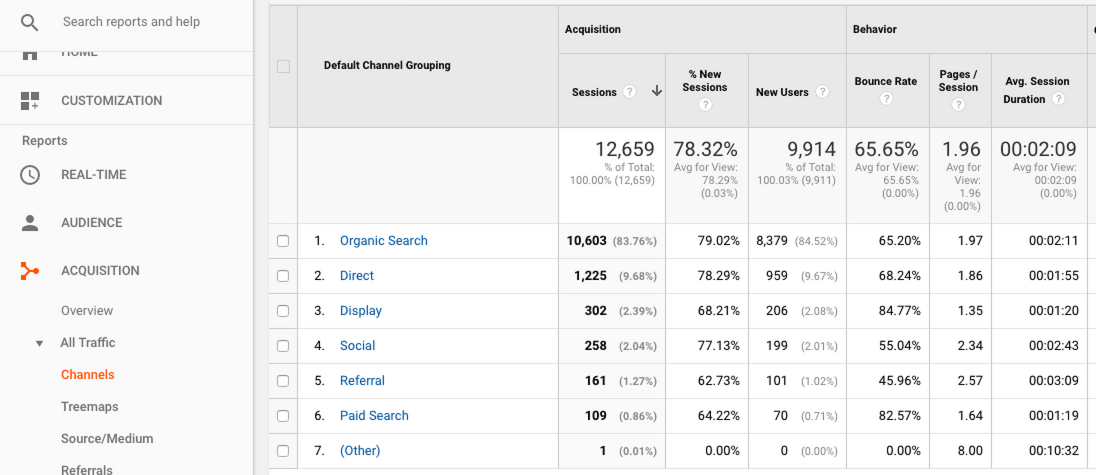 The data is broken down by channel, so you can see how much traffic you are getting from each source and find out how people are engaging with your website: are paid campaigns driving more traffic than email? Are visitors from social networks spending more time on your site and visiting more pages?
Pay attention to Sessions (how much traffic you received by channel) and Bounce rate (the percentage of your traffic that visited only one page of your website and then left). High bounce rates often indicate users are not finding what they are looking for. This can hurt organic rankings and it may be hurting your conversions also. The tricky thing is that there is no magical number to follow.
Bounce rates tend to differ from one channel to another, and it really depends on a number of other factors (your industry, site speed, usability, and more). Here is a general rate you can expect:
Organic channel: usually stays around 30-40%
Paid traffic: paid search traffic usually stays at around 60-70%, and display ads at 80%+
If your bounce rate is near zero, there is probably something wrong with your tracking code. Likely, there are two instances of the same Analytics code placed on the site, and that counts every visit as two, meaning, the software would think each user visited a minimum of 2 pages already, when in fact they visited one. Duplicate Analytics code can also be due to Google Tag Manager being used (having one Analytics tag integrated in Tag Manager and the other directly on the website).
Time on site (indicates how much time people are spending on your website) is another important indicator of website effectiveness. You should look at your average time to set your own benchmark, and see which traffic is performing better and how you can improve the channels that have lower time on site. Want some ideas? Try adding resources and links to additional content, motivating users to keep engaged with the site.
Pages visited (indicates how many pages on average users visited when browsing your website), like time on site, will vary, and you should use your own rates as a benchmark. Not only can you compare performance by channel, you can also compare performance over time. Overall, is engagement increasing, dropping, or staying the same? What can you do to improve it? Make sure to add calls to action and links to other pages, to ensure users can easily navigate through your website.
Engagement metrics are important not only to give you a glimpse of how your campaigns are performing, but they also matter to search engines. As a basic premise, search engines deliver the results they think will be the most relevant to the user. If your website has low engagement or users are not spending a lot of time on the site and not visiting many pages, Google may consider the site as not providing the best result to the user, so it will show other options instead. While you can't see how Google ranks your engagement, you can monitor it to make sure it is meeting some basic standards.
Now, if you click any of the channels listed on this page, you see a drill-down with the specific pages that brought you traffic. For example, if you click on Social Media, you will see all the social media channels that brought you traffic, such as Facebook, Twitter, LinkedIn and more. This may provide you with further insights regarding campaign performance.
Registration
One metric that you are probably already on top of is the number of registrations completed. You have a goal and you want to sell as many tickets as possible. But you are probably missing one thing: the tickets that didn't sell. How can you possibly measure that? You should know how many people clicked the registration button (they had the intention to register) and find out how many users completed the process vs. how many didn't. From those who didn't complete the registration process, can you infer some reasons as to why they didn't complete?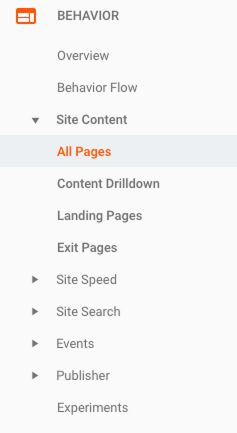 To do so, you can go to the left side menu, hit Behavior > Site Content > All Pages. This will give you a list with all the pages users visited. If your registration has a multi-page process (e.g. one page for personal information, another for accommodation, another to book sessions, etc.), you will be able to find out exactly where in the process they dropped by checking the "% Exit" column under the All Pages table (see below).

The higher the percentage, the higher the number leaving your website from that specific page. Analyze behavior data and see if you can find any possible solutions. For example, if users are dropping on the accommodation page, that might mean they are ready to register for the event, but they might want to research some other accommodation options. Maybe removing this step might increase your registration completions. Of course these are all guesses, but they are based on data. You might be able to improve your results just by listening to what the data has to tell you. Test different hypotheses (one at a time), and see whether your numbers grow.
To recover incomplete registrations, you can reach out specifically to those individuals who started the registration process but did not complete it, encouraging them to resume via personalized messaging or drip marketing campaigns. Accessing these individuals can not only boost the number of attendees for your event, it can also give you valuable insight into the design and flow of your event-registration process.
NPS Score and Attendee Survey
After the event is over, you still have some data mining to do. Finding out how attendees enjoyed the event is key to learning what went right, what went wrong, and what you can do even better for your next events. Attendee satisfaction can't be managed in Google Analytics, but there are a number of tools that can help you measure your Net Promoter Score (NPS), such as Ask Nicely and Worthix.
Net Promoters are the loyal fans who will sing your event's praises to their friends and colleagues. They generally account for about 80% of your referrals and can help you close new sponsors or exhibitors with their passion. This particular analytic is a gauge of loyalty and customer satisfaction. It is derived by asking the question, "On a scale from 1 to 10, how likely are you to recommend this event to a colleague or friend?" Depending on the responses, you'll be able to divide your attendees into three categories: Promoters (score of 9-10), Passives (score of 7-8), and Detractors (score of 0-6). The NPS score is then calculated by subtracting the percentage of detractors from the percentage of promoters.
Industry benchmarks for NPS scores are typically available for a fee via different research companies, but you may want to start simply by collecting your own data to establish an internal benchmark. Before your event is over, you can share the recommendation question with your attendees via email or event app push notification, to gather their responses while the experience is fresh in their minds.
Once you learn who specifically (among your event attendees) are your Promoters, Passives and Detractors, you can follow up with them accordingly. Your Promoters are your best influencers. They are the people to include in your wrap-up videos and next year's event collateral. Your Passives and Detractors can give you great feedback about what would help them become more enthusiastic.
As an event professional, make sure you collect and analyze data throughout the entire event cycle. The analytics are meant to be real time, actionable insights to help you pivot your event strategy on the fly, in the run-up to your event. Now is the time to get to your analytics dashboard and see how you can improve the metrics for your next event.
About the author: Julia Sousa is the Marketing Growth Manager at Attendease, an award-winning event management software solution for corporate event teams. Attendease is built to simplify the entire event management process, driving efficiency and reducing costs.
Twitter handle: @julha_a
Company twitter handle: @Attendease